Publications & Reports
For Signing Math & Science, TERC and Vcom3D are using the SigningAvatar® assistive technology to develop illustrated, interactive 3D standards-based sign language dictionaries that offer students in grades K-8 and 9-12 who are deaf and hard of hearing increased access to the same learning opportunities that hearing students enjoy. For these dictionaries, click on the links below or at the top or bottom of this page.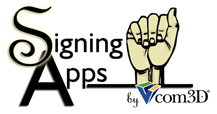 iPhone Apps for the SSD, SSP, SMD, and SMP are available at SigningApp.com
Click here to obtain the SigningAvatar® plug-in. For additional information about Signing Math & Science, contact us.
Requires: Windows Operating System, Internet Explorer 6.0 or higher, and the SigningAvatar® plug-in. If you are a Mac user, you must have VM Ware or Parallels installed to use the avatar.
© 2016 TERC. All rights reserved.